With the year coming to a close, websites scramble to list off everything that happened in the year 2015. Popular lists include the biggest scandals, the best albums, and the most important trends. Why do we always tend to look back, when we have bigger stories and different trends waiting for us around the corner!
When the new year approaches, people find excitement in making new resolutions. You can poke fun at the "resolutioners," all you want, arguing with the fact that a new year does not make a new person. Although true, we all use January 1st as a start date for a new year. This should be a day where we can start new and why not start within our home? New colors, less clutter, and more organization will help us focus our energy inward. Your resolution might take you to the gym, or across the sea, but you will always look forward to coming home to renew yourself and your family. To start the year right, here is a list that looks forward to the trendiest colors of 2016, chosen by some of the leading voices in home decor.
Benjamin Moore chooses Simply White as Color of the Year 2016. This color's lack of color, makes it a fresh and easy color to work with! Especially when you are trying to find out what color baubles and trinkets would look best on the shelves, white is the go-to color. If you are looking for color but still want to maintain the clean feeling, these Roman Shades really bring the room together and give it an earthy touch! Blinds Etc. are the people to call to achieve this look.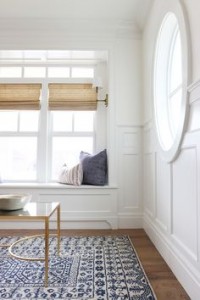 PPG names Paradise Found as their Color of the Year 2016. Paradise Found really adds tranquility to a room. When I think of yoga studios, meditation rooms or anything else that promotes an ease of mind, Paradise Found is the first color that pops into my head. Luckily, this color is versatile and looks stunning with dark or white wood!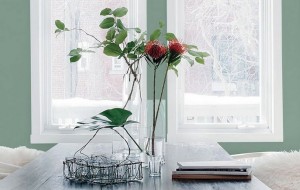 Dulux hails Cherish Gold as Color of the Year 2016, and it is absolutely timeless. Cherished Gold is a warm addition to your living space that is sure to make your morning coffee a bright experience to spark up your day.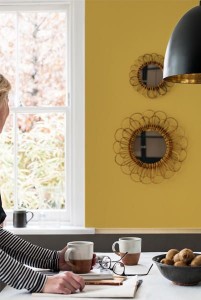 Sherwin-Williams makes creamy Alabaster their Color of the Year 2016! Although this color is only shades from white, it makes all the difference when you are looking to add little pops of color from Powder Blue to Paradise Found. Alabaster with white shutters from Blinds Ect. sings welcome home!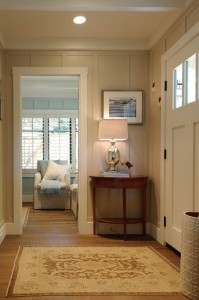 With one year coming to an end, you have to be sure that you start the new one off with a positive attitude. The best start is in the home, a place where you ring in the beginning of a new day and celebrate the end of one. To welcome the new year with a beautiful home, call Blinds Etc. today!