You spend a ton of time in it, its your sanctuary… why not decorate your BEDROOM beautifully?
Here are some fun things to spice up your living space and give your room that perfect personal touch, you'll really never want to leave it.
                                       
1. A shrine of things you LOVE

Having things in your room that you hold close to your heart can add that
much more happiness to your room. Dust off that box of little trinkets you've acquired over the years and place them on a shelf that is in clear view when you wake up. They will really serve their purpose when you can start your day remembering the memories associated with them.
2. The PERFECT curtains

Spicing up a dull room is sometimes difficult if you don't know where to start. Why not start with something that serves two purposes: Blocking out some sunlight, while adding the perfect amount of pizazz. There are so many options when it comes to window coverings. Roman Shades, Artisan Draperies, and Roller Shades are a perfect pair to colorful walls.
4. Artwork and Paintings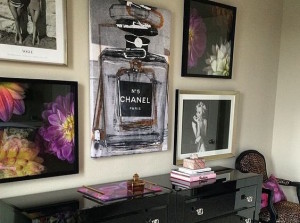 Instead of having photos of family in your bedroom add some color with beautiful
paintings or photos of things that inspire you. There is nothing wrong with having family photos in every other room in your home but keeping black and white photos can give your mind a  sense of ease to not have to think about anything or anyone specify before closing your eyes.
4. pillows, pillows, MORE Pillows!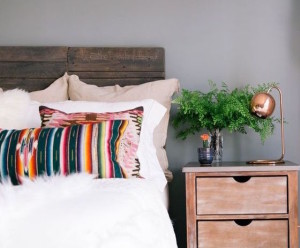 What is the best thing you have on your bed besides your mattress? PILLOWS! They are like little clouds that your able to rest your head on after a long day. So why not have tons and only limit yourself to one? We are talking about throw pillows. They are a great way to spruce up your bed and they can be changed and swapped with holidays or even if you want a slight change to your bedroom. Go CRAZY and get tons of colors and prints that can really add that much more excitement.
5. a RUG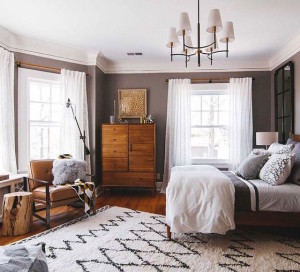 If you don't already have carpet in your room one of the worst things is waking up in
the morning and placing your feet down on cold tile or hardwood floors. Rugs are an easy, less expensive way to add that warmth and color to your bedroom. There are so many places you can purchase rugs from whether its shag rugs or something much more simple. Smaller rugs next to the sides of your bed accompanied by one large on in front can also be an awesome alternative.
No matter what you choose to do, your bedroom is YOURS, let your creative
mind roam and in the process have FUN.