Blinds Etc is proud to have helped many senior citizens make their homes more functional and practical for their needs. When it comes to window coverings, there are a few important facts to consider when deciding what is best for you or the elders in your family.
One of the most common concerns elders have when purchasing window coverings is the weight and strain of lifting a blind. Some window treatments are significantly heavier to lift than others, simply because of the material they are constructed from. Blinds Etc has some lightweight window covering suggestions for you to consider. A window covering that does not require you to strenuously lift up and down is our vertical blind. Our vertical blinds have a cord and chain that allows you tilt your blinds open, as well as pull them to the side, all with minimal pulling. Blinds Etc's vertical blinds are lightweight, easy to use, durable, and extremely low maintenance. The vertical vanes or (slats) are made of a vinyl material and can easily be wiped with a wet cloth without damaging them.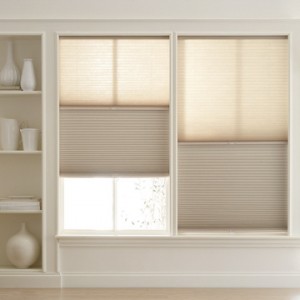 Another option to diminish the strains of lifting window coverings is choosing a cordless window treatment. Many window treatments are now being offered with the cordless option for safety and ease. With our cordless window treatments, you simply push the bottom of the blind up, and it stops rising when you stop pushing. This feature matched with a window treatment such as cellular/honeycomb shade would make for easy lifting. Our cellular/honeycomb shades are made from a variety of lightweight fabrics and are practical for those who need a convenient window covering. Our cellular/honeycomb shades are also offered in a continuous loop option, where there will be a looped cord to raise them, much like the loop on a vertical blind. Blinds Etc aims to provide ease and convenience for senior citizens interested in new window treatments. Blinds Etc is also proud to say that we offer a senior citizen discount. There are many options available for your window covering needs and any member of our staff will be happy to help you with any questions or concerns you have.
Blinds Etc can work with you anywhere.
Call 909-931-1660 for Designer Quality Blinds at Factory Prices. Free in home consultation and installation. Faux Wood Blinds, Vertical Blinds, Window Shutters, Wovenwood/Panel Shades, Roman Shades, Mini Blinds, Cordless, Replacement Blinds, Cellular/Honeycomb Shades, Insulated Blinds, Roller Shades and Sunscreens for Residential, Commercial and Industrial use from Los Angeles and Orange County, to Riverside and San Bernardino including Upland, Ontario, Rancho Cucamonga, Corona, Claremont, Fontana and Redlands.