The window covering industry is constantly finding new ways to update your window coverings as well as making them more versatile. There are many options provided for our customers, ensuring that your window coverings will be custom tailored to your needs. An option that has intrigued many of our customers is the Top Down/ Bottom Up option.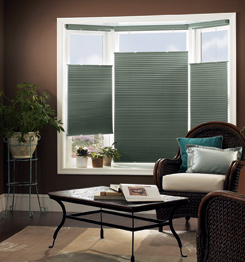 Before the Top Down/ Bottom Up option was available, window treatments such as cellular shades, roman shades, and woven woods had only one option, to lift them up. Window treatments such as faux wood blinds, and mini blinds gave you the option to raise the blinds as well as tilt them open while keeping the blind lowered. Many customers who had shades on their windows wanted to let light into their room without having to lift the shade completely up.  It was this issue that led to the Top Down/ Bottom Up design. This design allows you to not only lift your shade up from the bottom like a regular window treatment, but also allows you to lower the shade from the top. A great use for this option is to maintain privacy while still allowing light to enter your room. The top of your shades can be lowered, allowing light in and maintaining privacy at the same time. Without this option, one could raise the shade from the bottom to allow light in, but would lose privacy. This option is offered for: Cellular/honeycomb shades, roman shades, and woven wood shades.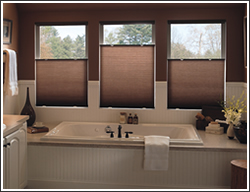 You could also add the cordless option to add ease and security to you window coverings. Raise the bottom of the shade, and lower the top with a gentle touch. Cordless window coverings provide a clean look by eliminating the busy cords hanging on your window treatment. The cordless option also promotes safety for households with small children by eliminating safety hazards. Blinds Etc wants to help update your window coverings and provide you with many options to make your window treatment fit your exact needs.
Blinds Etc can work with you anywhere.
Call 909-931-1660 for Designer Quality Blinds at Factory Prices. Free in home consultation and installation. Faux Wood Blinds, Vertical Blinds, Window Shutters, Wovenwood/Panel Shades, Roman Shades, Mini Blinds, Cordless, Replacement Blinds, Cellular/Honeycomb Shades, Insulated Blinds, Roller Shades and Sunscreens for Residential, Commercial and Industrial use from Los Angeles and Orange County, to Riverside and San Bernardino including Upland, Ontario, Rancho Cucamonga, Corona, Claremont, Fontana and Redlands.