There are many reasons why Mini Blinds are the ideal choice for window treatments. Blinds etc. has many options and upgrades for you to choose from. If you have concerns such as: affordability, ease, or low-maintenance, you can acquire all of these aspects with Blinds Etc's Mini Blinds.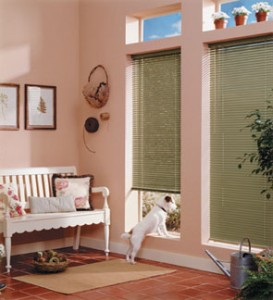 Mini Blind Options
Mini Blinds have always been known as one of the most affordable window treatments available. Just because Mini Blinds are affordable doesn't mean you have to sacrifice quality. Mini Blinds provide excellent light control and are easy to maintain. There are many features available for our mini blinds that may differ depending on the manufacturer. Blinds Etc. works together with four companies that manufacture Mini Blinds: Graber, Mariak, Skandia, and JC.
Graber
Graber offers both 1" and 2" aluminum mini blinds as well 2" vinyl mini blinds. You can choose between 6 gauge and 8 gauge. The difference between the two is the thickness of the slats. 8 gauge mini blinds have thicker material, allowing more durable material that is less likely to bend or dent. All Graber mini blinds are manufactured with a paint finish that repels dust, resists scratching and staining, and resists mold and mildew. Graber offers over 75 colors to choose from, and will also manufacture multi-colored mini blinds. Graber also offers upgrades including: cordless lift, cloth tapes, hidden holes, and inverted slats (allowing less light into the room). Mini blinds can be made to fit specialty shape windows.
Mariak
Mariak offers both 1" and 2" aluminum mini blinds. Both 6-gauge & 8-gauge slats are manufactured of 5086-H19 aluminum alloy. When formed during production, this alloy increases stability, creating a spring reaction that resists dents or bends in the aluminum slats. Mariak offers over 50 color choices, including metallic colors, and colors with texture. Mariak's mini blind control options include: wand tilt, restrictive wand tilt, ring tilt, and motorization.
Skandia
Skandia offers both 1" and 2" aluminum mini blinds. Both 6 gauge and 8 gauge slats are available. All headrails are made of steal, and either an enclosed bottom rail or c-shaped bottom rail. Skandia offers over 50 designer colors including metallic, jewel, and pearl colors. Skandia's mini blind control options include: lift chord/cord lock, cord tilt, and want tilt. Skandia also offers multi colored mini blinds as an upgrade option.
JC
JC offers 1" aluminum mini blinds with 6 gauge slats, and 2" aluminum mini blinds with 8 gauge slats. JC slats are coated with an organic prime and baked enamel-finishing coat to resist corrosion, dirt, and dents. There are many colors available in a smooth texture. JC control options include: want tilt and cord pull for the 1" and 2" mini blinds, and motorization options for the 2" mini blinds only. JC also offers upgrades such as: Multi-colored blinds, and cloth tapes.
*There are many options available to you, and Blinds Etc understands you may need further explanations. Please feel free to call the factory, and any one of our staff members will be happy to help explain the features of our mini blinds.
Blinds Etc can work with you anywhere.
Call 909-931-1660 for Designer Quality Blinds at Factory Prices. Free in home consultation and installation. Faux Wood Blinds, Vertical Blinds, Window Shutters, Wovenwood/Panel Shades, Roman Shades, Mini Blinds, Cordless, Replacement Blinds, Cellular/Honeycomb Shades, Insulated Blinds, Roller Shades and Sunscreens for Residential, Commercial and Industrial use from Los Angeles and Orange County, to Riverside and San Bernardino including Upland, Ontario, Rancho Cucamonga, Corona, Claremont, Fontana and Redlands.