Having sleek and spotless window treatments in your home is something we all want but don't know where to start. Luckily, there is no need to fret because finding the solution to cleaning even the most sensitive of Blinds and Shades is easier than you think! Some of the most delicate window treatments, like Woven Wood Blinds or Aluminum/Faux Wood Blinds, should not intimidate you into you calling in the cleaning Calvary. Here are tips on how to start keeping up with your window treatments!
Cleaning Woven Wood Shades  
Woven Wood Shades are a beautiful way to dress up a window and provide a natural appeal to the home. They are, however, not best friends with water. So next time you are vacuuming your floor, don't forget the brush attachment! Vacuuming your Woven Wood Shades with a soft bristled brush will keep the composition of the weave in-tact and most importantly lift the dust!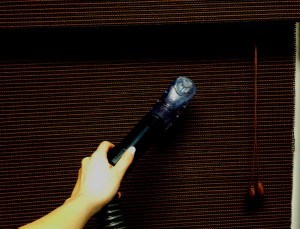 Cleaning Aluminum and Faux Wood Blinds
Depending on how deeply you plan on cleaning, there are various ways to cleaning Aluminum and Faux Wood Blinds. The first one being with a damp cloth and a mild detergent. Wiping each slat with the cloth will eliminate the built up dust and wash away any possible stains. If you have our routless Faux Wood Blinds, you have the option of removing each slat to wipe individually and soaking the cords in a bucket of warm water and mild detergent. This method surely promises the deepest clean possible!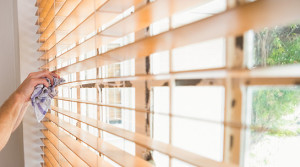 Keeping up with window treatments takes a small detour from your usual housework but boy does it make a difference! With minimal effort and built-to-perfect treatments from Blinds Etc. , your windows will satisfy you for years to come!