When it comes to rooms with high moisture or humidity, the type of blinds you choose are very important. Certain blinds and materials withstand the moisture better than other materials. Rooms that may contain high moisture are generally bathrooms and kitchens.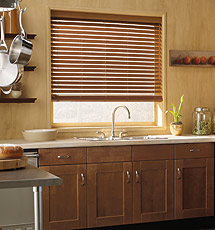 For your bathrooms and kitchens, a low maintenance easy-to-clean window covering is most practical option. Some options Blinds Etc recommends include: 2" faux wood blinds, vertical blinds, and some roller shades. Blinds Etc's 2" faux wood blinds are *PVC which is made to look like wood, making them durable as well as low maintenance. Our 2" faux wood blinds can be cleaned, and water will not damage the slats as it would with real wood blinds. Blinds Etc's 2" faux wood blinds come routless which means there are no holes punched in the slats. This allows for optimal privacy, which is especially desired for rooms such as bathrooms. This also allows for removal of each slat for cleaning purposes. Most companies will incur a 20% surcharge for this feature, however Blinds Etc provides this upgrade standard with no extra cost to you.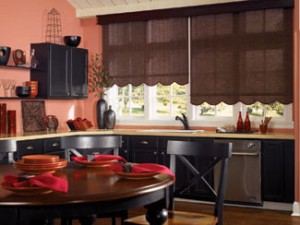 Another option for your high moisture rooms are Blinds Etc's Vertical Blinds. Our vertical blinds are made of a PVC material, making them water resistant and durable. Along with our faux wood blinds, our vertical blinds can be cleaned and can withstand high moisture conditions. There are hundreds of colors and designs to choose from all at the lowest prices, guaranteed. There are also some roller shade materials that can withstand water and moisture. Some roller shades are available in a vinyl material. Vinyl resists moisture and can easily be wiped down. Vinyl roller shades may be ideal for kitchens or areas where privacy isn't a top priority. Roller and solar shades come in light filtering and room darkening fabrics, allowing you to choose the amount of light and privacy you desire.  These three options are all practical for your high moisture rooms, and all at the lowest prices. Here at Blinds Etc, we believe that our customers deserve the best quality products and the lowest prices available.
*PVC- Poly Vinyl Compound
Blinds Etc can work with you anywhere.
Call 909-931-1660 for Designer Quality Blinds at Factory Prices. Free in home consultation and installation. Faux Wood Blinds, Vertical Blinds, Window Shutters, Wovenwood/Panel Shades, Roman Shades, Mini Blinds, Cordless, Replacement Blinds, Cellular/Honeycomb Shades, Insulated Blinds, Roller Shades and Sunscreens for Residential, Commercial and Industrial use from Los Angeles and Orange County, to Riverside and San Bernardino including Upland, Ontario, Rancho Cucamonga, Corona, Claremont, Fontana and Redlands.