Blinds Etc is pleased to have partnered with many restaurants and bakeries in updating and remodeling their businesses. Blinds Etc has provided window treatments for restaurants such as: Chick-fil-a, Chilli Mexican Grill, Joe's Crab Shack, Juan Pollo, La Parolaccia, El Ranchero, JoAnn's Cafe, Fresh Start Bakeries, and La Piccoletta. We also provide services to many retail, and industrial companies.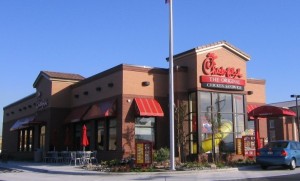 Window Treatments for you Business
If you have a business or industrial building that you need window coverings for, the following are what we recommend for you and your business.  Many restaurants and business choose to go with faux wood blinds. These blinds are made of a vinyl material, and are routless (no holes).  The material, along with the routless option, allows you to easily remove and clean the slats. The faux wood blinds are a great way to keep the heat and glare out of your room. Another window treatment that many of our businesses have chosen, are our Solar/Roller shades. These shades not only give you the privacy, but also allow you to see outside and have light enter your room. Roller shades and solar shades also provide excellent insulation! They can be raised and lifted out of the way for your optimal viewing.
For those of you with large store-front windows, vertical blinds are the practical and affordable window covering. Our vertical blinds come in an array of materials and colors, offering you many options for your business. Vertical blinds are perfect for your large window for multiple reasons such as: they help keep the heat out, they're very easy to clean, and they are affordable!
The three options explained: faux wood, roller/solar shades, and vertical blinds are simply the most desired and practical window coverings for businesses throughout Southern California. You are not limited to these options, as there are many window coverings to choose from, allowing you to pick the perfect option for your business. All of our window coverings are made custom to your needs. Blinds Etc looks forward to helping make your business flourish.