You walk into a store and right in front of you, you are attracted to the lovely Wood Blinds on display. Looking at the product next to it, you realize they somehow look the same but they bear a different name, Faux Wood Blinds. You get curious and you would like to know why they are different yet they look similar. Here is a little bit of clarification which will help you in choosing blinds which fit best in your home.
Bass Wood Blinds 
Bass Wood Blinds are actually created from wood that has an exceptional look offering a natural, organic and warm feel to décor. Bass Wood Blinds are a natural product and therefore susceptible to moisture and direct sunlight. This tells you that if you are choosing them for an area in your home that is very sunny or moist, it isn't a good idea as they may warp, crack and fade in the long run.
If you want to match your blinds with wood furniture or flooring, Bass Wood might make a better option. It is easier to match the shades of natural flooring and furniture with Bass Wood Blinds than it is with Faux Wood Blinds.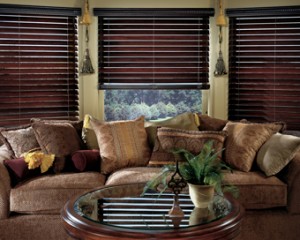 Bass Wood Blinds are kiln dried and when the moisture is removed they are made lighter, making it easy for you to pull them up for light and ventilation. Not only are they lightweight, but also are available in many varied size options, making them a better option when covering large windows.
You have to be keen when selecting the cleaning product to clean your Bass Wood Blinds. Blinds Etc.'s 100% Bass Wood Blinds will last a lifetime when cared for properly! Choose the cleaning component that does not risk staining the fine grain of real wood, otherwise you may be disappointed when you damage your blinds in the name of cleaning
Faux Wood Blinds
Faux Wood Blinds are artificial or imitation wood blinds. They look like the "real/natural thing", but in the reality, they are made of PCV/vinyl or composite wood material. Both Bass Wood and Faux Blinds are made with slats, but the slats of Faux have a wood core that is coated with a composite or are wholly made of a PCV/vinyl material.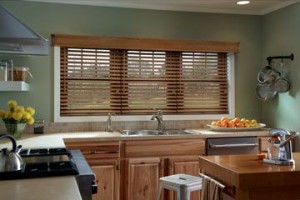 Contrary to Bass Wood Blinds, Faux Wood Blinds are the best option for very sunny or moist areas. They are more resistant to moisture and sun and therefore you can comfortably have them in your bathrooms and basements.
Something else that can guide you in choosing the best blinds for your house is what you want the blinds to match with. If you have a white or neutral color in your house, go for Faux Wood Blinds as the natural grain look is not present here and nobody will tell the difference.
Faux Wood Blinds are heavy as they are not kiln dried as wood blinds. If you are the person who likes to pull your blinds to open your window, they may be a bit challenging as they are heavy especially when it is an oversize window.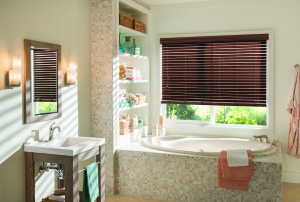 It is easier to clean Faux Wood Blinds with any cleaning product type as you have nothing to worry as far as damaging any fine grain of Bass Wood Blinds.
When you have a tough decision to make,  you can make a list of pros and cons. Choosing between Faux Wood and Bass Wood Blinds, it comes down to your homes climate and decor. These window treatments are indistinguishable to the eye and built to last! Any choice will surely be a wise one!